La 16 august 1977, se stingea, în casa sa din Memphis, Regele Rock'n Roll-ului, Elvis Presley. Inima i s-a oprit pentru totdeauna la numai 42 de ani. Cu toate acestea, a trăit într-o viață cât alții în zece.
Elvis a fost un fenomen ce a influențat și educat generații întregi de muzicieni.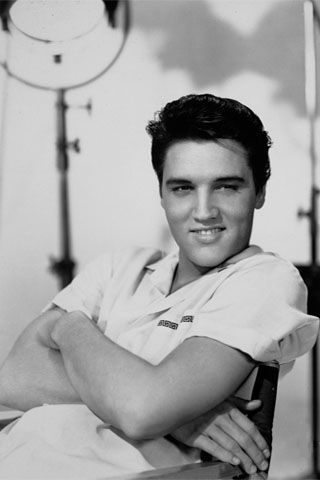 Iată câteva din momentele importante ale carierei și vieții sale:
♥  La 10 ani, pentru că părinții nu și-au permis o bicicletă i-au cumpărat o chitară. Acea chitară avea să fie drumul lui către celebritate.
♥  La 19 ani, semnează cu Sun Records primul său contract discografic, după ce îi atrage atenția producătorului Sam Phillips cu stilul său unic care combina elemente de muzică country, blues și rock 'n' roll.
♥  Primul hit local se numea "That's All Right".
♥  Apariția în emisiunea "The Ed Sullivan Show" i-a adus notorietate.
♥  În 1956, semnează un contract pe șapte ani cu Paramount Pictures și apare la The Steve Allen Show la NBC unde cântă celebra piesă "Hound Dog", iar în noiembrie are loc premiera primului său film – "Love Me Tender".
♥  În noiembrie 1959 o cunoaște pe Priscilla Ann Beaulieu, pe când aceasta avea aproape 15 ani și cu care se va căsători câțiva ani mai târziu. Tot atunci pleacă în armată pentru doi ani
♥  În 1968, joacă în filmele muzicale "Elvis" sau "Elvis '68 Comeback Special", iar un an mai târziu, în august, susține în Las Vegas o serie de spectacole ce vor stabili un nou record în ceea ce privește audiența. La sfârșitul anului 1969 este lansat single-ul "Suspicious Minds".
♥  În 1970,  "That's The Way It Is" are încasări mari, dar este și foarte apreciat de critici.
♥ Deține recordul pentru audiență, reușind să susțină 4 show-uri consecutive, toate sold-out, pe celebra arenă Madison Square Garden (1972).
♥  Show-ul "Aloha from Hawaii" este transmis prin satelit în 36 de țări, audiența fiind estimată la 1,5 miliarde de telespectatori.
♥  Albumele sale s-au vândut în aproximativ 1 miliard de copii la nivel mondial. Piese precum "Love Me Tender", "Heartbreak Hotel", "Hound Dog", "Jailhouse Rock", "Are You Lonesome Tonight" și "Suspicious Minds" se numără printre cele mai cunoscute şi difuzate.
♥  Presley a obținut trei premii Grammy și a jucat în peste 30 de filme.
♥  Este înmormântat la Graceland, în Memphis, Tennessee. Proprietatea primește anual circa 600.000 de persoane care vin să viziteze muzeul, mormântul său și pe cel al familiei – părinții și bunica lui.
Acestea sunt doar câteva dintre momentele importante din viața lui Elvis Presley. Moștenirea sa muzicală și impactul asupra culturii rămân vii și astăzi.
surse foto: https://www.graceland.com/quick-facts, https://ro.pinterest.com/pin/302515299947674766/