Oona O'Neill Chaplin, fiica celebrului dramaturg Eugene O'Neill, avea doar 18 ani cand s-a casatorit cu faimosul Charlie Chaplin. Ii implinise cu numai o luna inainte de nunta. Sotul ei, Charlie Chaplin, avea 53 de ani.
Celebrul actor avea sa scrie mai tarziu in autobiografia sa ca momentul in care a intalnit-o pe Oona avea sa devina "cel mai fericit eveniment al vietii sale".
S-a scris mult in presa vremii despre faptul ca Oona ar fi trait tacuta in umbra celebritatii lui Charlie Chaplin, insa aceasta avea sa declare in 1960 ca ea nu a vazut nicioadata lucrurile asa. Era foarte multumita cu rolul de sotie si mama si nici nu vedea diferenta de varsta dintre ea si sotul ei, pentru ca "el este lumea mea" si "nu am vazut niciodata pe altcineva si nici nu am trait altceva".
Oona O'Neill inante de Chaplin
Nascuta in Bermuda, avea numai doi ani cand Eugene O'Neill a parasit familia pentru actrita Carlotta Monterey, care i-a devenit a treia sotie.
Oona isi petrecea verile in casa victoriana a familiei din Point Pleasant, New Jersey, iar restul anului locuia in Manhattan cu mama ei, unde a urmat scoala Brearley, pe atunci o celebra scoala de fete. In 1942, Oona, in varsta de saptesprezece ani, a fost numita "Debutanta anului". Dupa acest moment, a hotarat ca nu vrea sa urmeze Colegiul Vassar, asa cum ar fi trebuit, ci o cariera artistica.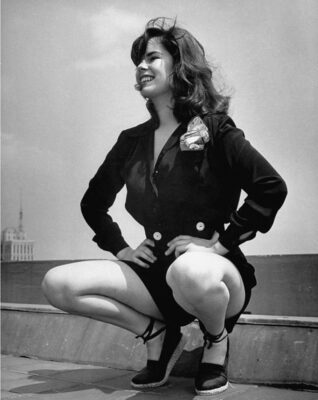 Oona s-a intalnit cu caricaturistul Peter Arno, cu regizorul Orson Welles si cu autorul J. D. Salinger. Spre dezamagirea lui Salinger, insa, relatia lor s-a incheiat cand ea l-a cunoscut pe Charlie Chaplin.
Cand Charlie a intalnit-o pe Oona
I-a fost sugerata pentru un rol intr-unul dintre filmele sale. In momentul in care a cunoscut-o, Chaplin a fost instantaneu impresionat de "frumusetea luminoasa si de farmecul" ei. De atunci, au fost de nedespartit.
In anul urmator s-au casatorit, devenind cea de a patra sotie a legendarului Charlie Chaplin.
Tatal Oonei, care era de aceeasi varsta cu sotul ei, a fost extrem de deranjat de relatia dintre cei doi si a dezmostenit-o pe aceasta. Insa, acest lucru nu a insemnat nimic pentru proaspatul cuplu.
Oona si Charlie au trait o frumoasa iubire, iar ea i-a fost alaturi mereu. In 1952, dupa ce lui Chaplin i-a fost revocata viza din cauza implicarii sale in cauze politice de stanga, conform history.com, a plecat intr-un exil autoimpus cu Oona si cei trei copii ai lor. Ulterior, Oona a renuntat la cetatenia ei americana si a devenit cetatean britanic, ca si sotul ei. Au trait intr-un conac din secolul al XVIII-lea, cu vedere la lacul Geneva, in Corsier-sur-Vevey, Elvetia, si au mai avut inca cinci copii.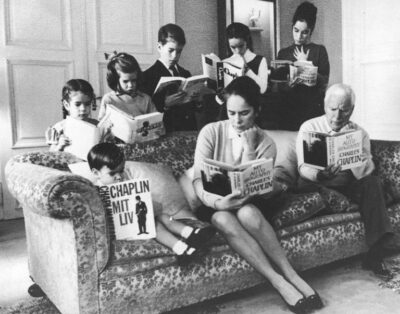 Cuplul Chaplin avea sa se intoarca impreuna o singura data in Statele Unite, cand faimosul Charlie a acceptat un premiu Oscar onorific al Academiei, in anul 1972.
Sfarsitul unei mari iubiri
Cei doi au fost despartiti doar de disparitia actorului, in anul 1977. Initial, dupa moartea actorului Oona s-a mutat la New York, insa in 1980 s-a reintors in Elvetia.
A murit in 1991, la 66 de ani, de cancer pancreatic, in casa lor din Corsier-sur-Vevey. In urma iubirii lor, au ramas cei 8 copii, – Geraldine, Michael, Josephine, Victoria, Eugene, Jane, Annette and Christopher-, si cei 17 nepoti.
Copilul cel mare, Geraldine, este astazi una dintre cele mai apreciate actrite, la fel ca si fiica sa, Oona, care poarta numele bunicii.
Conform site-ul de specialitate imdb.com, pe Geraldine Chaplin o putem vedea in filme si seriale precum Doctor Zhivago, Nashville, Orfelinatul, Britannia, Marguerite et Juliena etc., iar pe fiica acesteia, Oona Chaplin, o putem vedea in Taboo si Game of Thrones.
Chaplin si O'Neill sunt inmormantati unul langa celalalt in Corsier-sur-Vevey.
sursa foto & info: https://timenote.info; https://www.nytimes.com;  https://history.com; https://imdb.com; http://countryliving.com